Hi Guys :)
I know I haven't updated this in a couple of weeks but it is because I have been on two holidays in a month! I was away on a girls holiday in Malia and a couples holiday in Paphos. They were excellent but it did not leave me a lot of time to update my blog!
So I have a stitchy make (for an exchange) to show you but i'll save that for another post. Just now I am going to show you the stitchy haul I have accumulated over the past few weeks!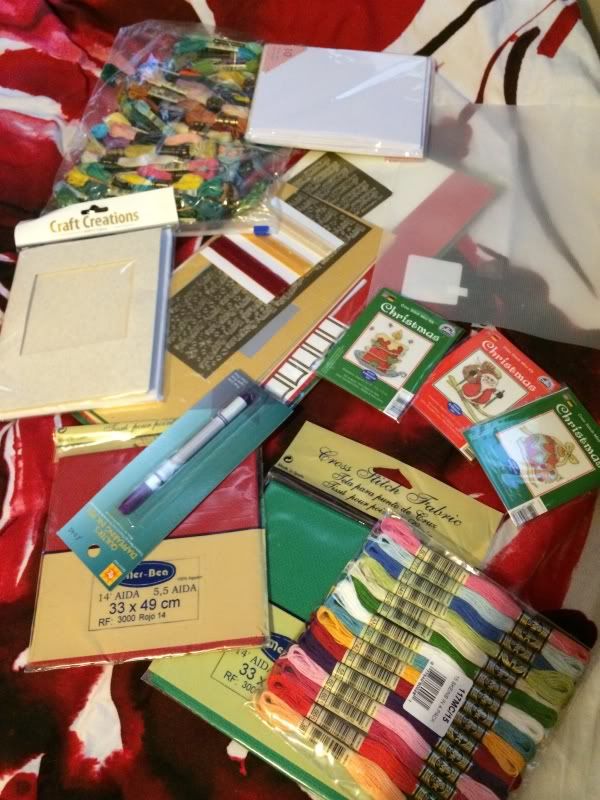 As you can see here it is quite a haul!
Now the thread pack you can see in the bottom right and the card making things you can see in the middle of the picture were both from the same place These were subscription gifts I recieved after subscribing to Cross Sitch Card Shop. The threads are by DMC (my chosen brand) and the card making kit is a Christmas pack, which will be good for the upcoming holiday!
The three mini kits also came as a gift from the magazine subscription.
The large thread bag in the top left came from eBay. This was a mixed lot and I was not sure what I was getting. I managed to get a full bag of threads for approximately £15. This was such a bargain as a skein in the UK can cost up to £1.09.
Everything else in the picture was purchased from a store called Draw Write in Ayr. There is:
Red 14 ct aida
Green 14 ct aida
Plastic canvas (14 ct)
Two packets of cards
A pen for marking fabric (perfect for gridding as the ink disappears)
Everything from there cost under £15. I love the red and green aida and it will be great for festive stitching!
I have also purchased a sewing machine! My first. It was an offer on Groupon and I got an LS17 Brother sewing machine for £79. I have never really worked with a sewing machine and I am excited to work with it. If anyone has any tips I would love to hear them! I haven't used one of these since high school!
Anyway, I will be doing an update on my stitching in the next few days, so keep an eye out. Also I have decided to start doing some video tutorials. I will be starting these in the next few weeks and I will upload them on youtube and link them here. So keep your eyes peeled! They will include everything from the basics to move advanced techniques.
Hope you enjoyed this haul post :)