Well I finally finished my excahneg gift. There were no rules on what you were to complete, it was just to be in the art nouveau style. I decided not to put another row of roses at the bottom, which was my original plan, but I thought it looked better the way it was. I was going to put it onto a canvas but I could not find one that was slim enough! They really should make various sized canvas....not everyone wants it to be square!
So I went into the local shopping mall and I was looking for some ideas when I came across a recycled notebook. I'd seen a few examples of notebooks in magazines but I had never attempted it to upcycle one. However, I thought i'd give it a go. Here is the result.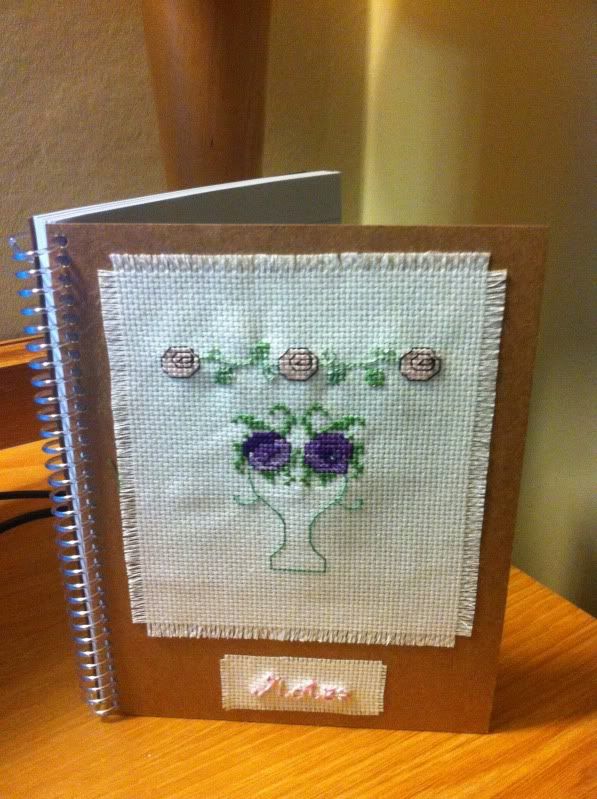 I frayed the edges of the aida, taking off roughly four blocks. To do this simply put your needle into the first hole at the endge of the aida and slowly pull it out bit by bit. Do one block at a time to ensure that the edges are equal and that you don't warp the fabric. I got another piece of aida and stitched the word 'notes' in thick string. I really wanted a chunkier look for the word, which is why I decided to use string.
I tried something new with this piece and that was having a bit of fun with the colours. The green used to connect the roses was actually a green DMC mixed with a green light effect DMC. It gave the green a bit of a shimmer which was an effect that I thought was nice for the project.
I hope you guys like it and I hope the recipient likes it!
Keep calm and cross stitch! :p